Added Costs of Valves in Sequence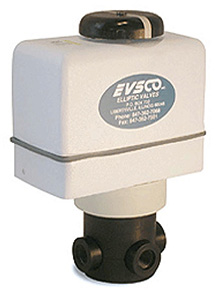 Applications often require multiple actuated valves to run in series, which tags on the added baggage of complicated designs and higher costs. With applications that run valves in sequence or multiple actuated valves, each individual valve needs its own actuation. Purchasing several electric or pneumatic actuated units can significantly bump up costs, not to mention the cumbersome planning involved with creating the design footprint. Luckily, a solution exists for OEMs to avoid these added expenses and simplify their design.
Introducing: The Elliptomatic Stack Valve System
The "Stack Valve," part of EVSCO's Elliptomatic series, has the capabilities of operating multiple valves with a single actuator. 'Elliptomatic' refers to the valve's technology with simple design and added flow patterns. An innovated system proven to work, pneumatic and electric actuated valves also compact, designed to make installation easy for engineers.
Operate multiple valves at once. The Stack Valve functions and tests very similarly to actuated ball valves … only with the added benefit of one-actuation operation. While traditional valve systems work with one actuator, the stack design performs perfectly with just a single actuator to set off multiple valves. OEMs and engineers now have an easier time managing applications and can avoid the bulk of adding multiple actuations within the application. The stack valve furthermore eliminates the need to purchase additional electric or pneumatic actuators, making it a cost-effective choice.
A Compact Design
The simplified design of EVSCO's Elliptomatic Series broadens its range of compatibility to fit diverse design footprints for endless applications. The compact, rugged structure of the valve makes it ideal for accommodating space limitations, giving engineers maximum flexibility without having to concern over the systems durability.
Limitless Flow Patterns
In terms of flow patterns, the elliptic stack valves offer a modular design with vast directional capabilities to support OEM's in an effort to break free of restrictive old-school flow solutions. To help with your next flow pattern selection for your OEM design, check out the Elliptic Valve flow possibilities here.
Made of polypropylene or PVDF, well-built FDA grade materials. The actuated elliptic valves systems are well built to withstand hostile, corrosive environments. Including coated pneumatic and electric actuators to insure your processes is high performance. Elliptic valves inherently have a self-contained wiping and cleaning feature to maintain the integrity of the design, further extending each part's longevity and lifetime performance. The patented structure decelerates natural build-up in the valve body, with full ports to allow for constant flow in areas as tough as pulp and paper process. By selecting an accompanying elliptic valve O-ring made of materials matching your application, the fluids flowing through will assure compatibility, further prolonging each stack valve's high level of functionality.
Stack Valves For All Applications
The Elliptomatic series of actuators are offered in AC or DC voltages, with the choice of Pneumatic Air to Air or Air to Spring (fail safe). Combined with the flexibility of flow solutions capable in a much smaller area, the stack valve provides the perfect solution to simplify designs and save on actuator costs.
For more information on the stack valve, visit http://plastic-valves.evsco.com/category/stack-valves-3.